I was approached by the ever-friendly ManMouseGames who wanted me to redesign his logo, and come up with a few emotes for him. After a short chat about what sort of style he was looking for, the colours he liked, and the emotes he'd be most likely to use, here's what came out of it.
He was very into presenting it like a friendly super-hero, and so, keeping this in mind I came up with using the mouse-head silhouette looking similar to the 90′s Batman logo. Whilst playing with ideas I made sure to avoid making the ears round, so it wasn't similar to Disney's famous mouse logo. I then hollowed it out to give it that "batman" feel and added the solid MM's similar to the 'S' in superman. The bold 3D font was also a Superman nod. The end results are shown at the top of this page.
As for the emotes, MMG already had a character that he wanted reworking. The character was very much human in appearance and so, to try a few things out I quickly sketched up a more mouse-like design… which didn't really work. Instead I tried somewhere in between, and MMG liked the rough sketch so much, he insisted on using that – so… who am I to argue?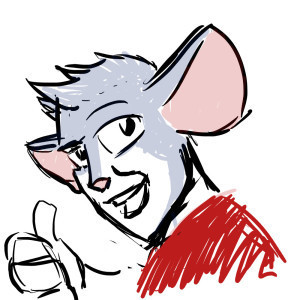 I then cleaned this up for the emotes, and between this character and re-using the logo's designs, we agreed on the set below;